Czech Spots - Saint Procopius Catholic Church
Saint Procopius, established in the Pilsen District, which emerged as a new settlement area for Bohemians after the Chicago Fire, is one of the best known of Bohemian churches.  It was an anchor for religious and social activities for decades.  The church records, available online through Family Search, are some of the most used and cited records for genealogy researchers.
The article below is an excerpt from the website of Saint Procopius Catholic Church of Chicago:
Website: http://stprocopiuschurch.org/about-us/parish-history/
The First Years (1863-1883)
The following list describes important highlights of this period:
Immigration of Czech Catholics
In 1863 the Czech Catholics who immigrated to Chicago formed their first parish, St. Wenceslaus, at 11th and De Koven Streets. In 1871 they organized themselves in the Bridgeport area at St. John Nepomucene.
Growth of the Pilsen neighborhood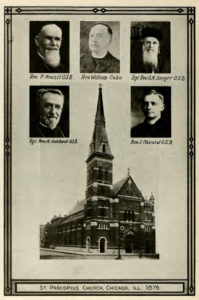 Pilsen experienced great growth after the Chicago Fire of 1871 because the new fire codes did not prohibit inexpensive frame construction this side of the river. Many of today's neighborhood buildings go back to that period of construction and population growth. When Czechs moved from other neighborhoods into Pilsen, the need for a parish became clear.
Fund raising for a school and parish
Fr. William Coka, pastor of St. John Nepomucene, helped to organize a committee of Pilsen residents to raise funds for a new school and parish. In the summer of 1875, the committee bought three lots at the corner of 18th and Allport Streets for $3,600. The Methodist Church at 19th and Halsted wanted to build a brick church and would sell their old frame church for $2,000. Consequently, this frame structure was purchased and moved to 18th and Allport–the upper part to be used for worship and the lower part for a school. St. Procopius, a tenth century Benedictine monk, was chosen as patron saint of the new parish.
Establishment of St. Procopius Parish
St. Procopius was organized as a parish in 1875 with Fr. Coka as its first pastor. The first Mass was celebrated there on Easter Sunday, April 16, 1876, by Fr. Gerst, chaplain at nearby Alexian Brothers Hospital.
St. Procopius School began in 1876 with Mr. John Petru, a professional teacher and organist, as its first principal. School enrollment grew very rapidly. Two Franciscan sisters from Joliet joined the growing school. The sisters lived in a small house on the north side of 21st Street between Racine and May before they moved into the church building. Within a few years two more buildings and part of a third were acquired for the school. In the building at 1714 S. Racine, seven Franciscan sisters established their convent on the second floor with classrooms on the first floor.
Construction of a new church
To keep up with the parish's growth, Fr. Coka decided to build a new church. The old church was converted entirely to school use and relocated closer to the alley to make room for the new church. Mr. P. Huber was the principal architect of the Romanesque church. Ground-breaking took place September 28, 1881. Archbishop Patrick A. Feehan blessed the church on September 23, 1883. The celebration attracted many visitors, including Czech clergy from other American cities.
CSAGSI has a web page with additional information: https://csagsi.org/saint-procopius-cc/
Approaching nearly 150 years since Saint Procopius first opened it doors, the church and school continue today.  In December of 2022, the fourth grade of Saint Procopius School made Chicago area news as they won the first ever National Catholic Schools Spelling Bee.  The competition was in Spanish, as over the course of the years, the area has transitioned from Bohemian to Hispanic, but their mission remains the same.
References:
Images: Chram Sv. Prokopa and Skola Sv. Prokopa - Adresar
Image: Current Saint Procopius - Google Maps
Image: Saint Procopius and Pastors - "Diamond Jubilee of the Archdiocese of Chicago 1920", Saint Mary's Training School Press, 1920, Page 250.
Maps:
All district boundaries (Pilsen, North Lawndale, South Lawndale) and all numbers indicating other specific map locations are approximate.  The maps for districts and all other locations were created using: OpenStreetMap® is open data, licensed under the Open Data Commons Open Database License (ODbL) by the OpenStreetMap Foundation (OSMF).
The district boundaries and specific map locations were approximated and based on other maps found online:
www.xipdatamaps.com
GIS information services from www.chicago.gov
https://en.wikipedia.org/wiki/North_Lawndale_Chicago
https://en.wikipedia.org/wiki/Sorth_Lawndale_Chicago