Bohemian National Cemetery may have one of the largest collection of treestones, a unique form of headstone shaped as a tree trunk, or some variation thereof.
Most were made of limestone, which made the treestone easier to be custom created, but at the same time made the treestone more susceptible to deterioration.
Treestones became popular enough to appear in a Sears and Roebuck, along with other tombstone and monument catalogs.
Image below (left) advertisement for treestone monument from Sears and Roebuck catalog (public domain).  Image below (right) advertise for treestone monument from Quality Monuments catalog (public domain).  Click on image for a larger view.
The Midwest, with its abundant number of limestone quarries, became a source of treestones available from a number of individuals and companies.  "Cemeteries of Illinois, A Field Guide to Markers, Monuments and Motifs", by authors Hal Hassen and Dawn Cobb (2017, University of Illinois Press) pages 60 to 65, describes: "Beginning in the late 1800's and continuing into the early 1900's we see distinctive limestone markers made primarily from material imported from the Bedford quarries in Indiana.  Well suited for carving, this soft limestone was used to make sculptures in a rustic art form, rather than for the simpler tablet markers.  The rustic style, which began in the later 1700's, reflects natural themes…….The complex rustic images were usually carved on recently quarried, softer material because the longer the limestone remained unmodified, the harder it became.  Throughout Illinois one can see the variety of styles made from limestone.  These styles are somewhat unique to limestone, not duplicated in other stone materials.  One interesting type of limestone marker is the "World War 1" solder statue.  This marker is very detailed, showing components of the uniform as well as tree stumps adjacent to the soldier.  The Bohemian National Cemetery in Chicago has one of the largest collections of limestone sculptures in Illinois, many depicting "World War 1" soldiers…..."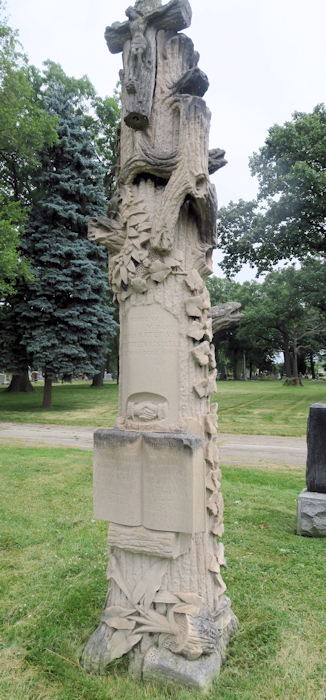 CSAGSI member, Paul Nemecek, in the March 2014 publication of the membership journal, Koreny, contributed a research article entitled "Anton Heller, Early Chicago Stonemason Bohemian National Cemetery".  "Anton Heller was born, 1857, in the village of Trneny Ujezd (Bohemia)….Anton immigrated to America in the early 1880's. In America he became an early and very prominent artist, builder, and stone cutter in making eternal decorations at cemeteries in Chicago.  He started his monument, statue and mausoleum business in Chicago in 1887….. Upon Heller's retirement in 1921, the company continued in business as Heller Brothers, owned and operated by two sons, Anton G. Heller (1889-1975) and Otto B. Heller (1891-1953).  Heller Brothers was a full-service monument company specializing in creating personalized granite and marble memorials and headstones.  They designed, carved, and lettered the memorials on their own premises located across the street from Bohemian National Cemetery, on land leased from St. Lucas Cemetery….. You will find the Heller name carved onto the base of some of the limestone trees (treestones) located throughout the cemetery.  These tree trunks or stumps are highly personalized monuments and speak eloquently for the pain of loss suffered by the family.  The trees, all different may be decorated by ferns, ivy, broken branches, a wreath, a lily, an anchor, a broken wheel, a bird of book, two joined hands, a crucifix, or cross, a mushroom, as well as many other objects……"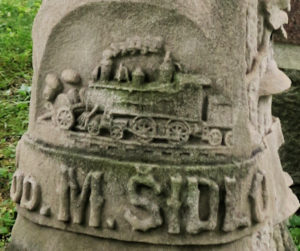 The September 2014 publication of the CSAGSI membership journal Koreny, contained a contributing article by Samantha Chmelik, "Symbols in the Trees".  Samantha provided descriptions of various symbols found on treestones and some of their meanings.  (CSAGSI members can access both the March 2014 and September 2014 publications of the Koreny in the members' only section of this web site.)
In the 2010 Winter Issue of the Friends of Bohemian National Cemetery Newsletter, "Heritage Happenings", (http://www.friendsofbnc.org/newsletters/vol6no3.pdf)  editor, Carol Jean Smetana, contributed an article "Stories of the Stones" with a focus on the treestone of the Sidlo family.  Smetana provides an explanation on the image of a train as part of the Sidlo treestone.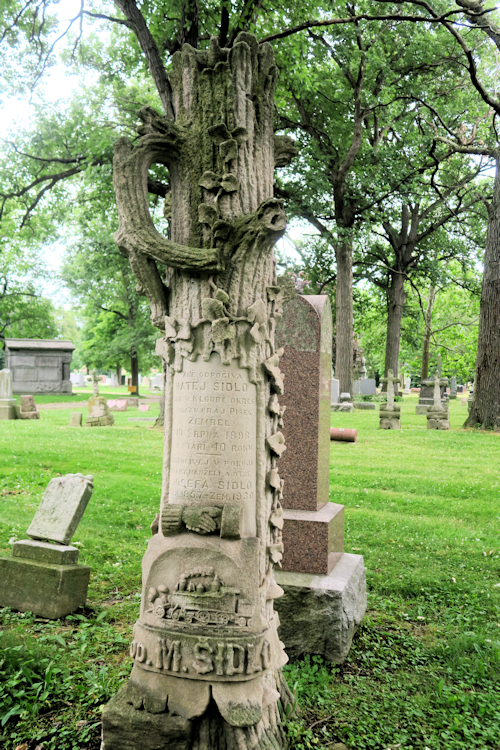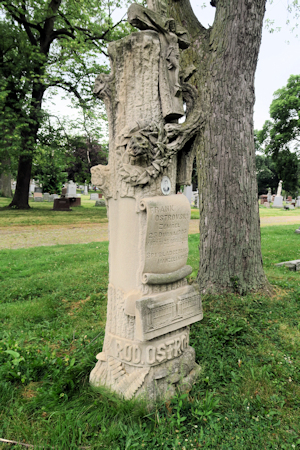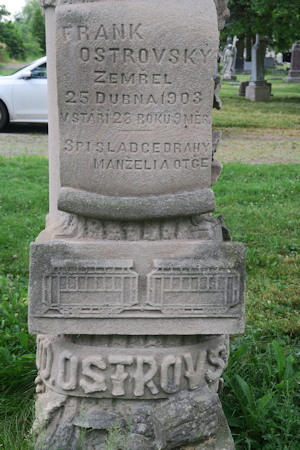 Douglas Rife, has an extensive web site, "Gravely Speaking".  At the website, one of the pages (https://gravelyspeaking.com/2015/08/12/the-dinky/) is another railroad image on a treestone (Frank Ostrovsky) in Bohemian National Cemetery.
He has an extensive listing of cemetery visits at the web site.
Perhaps the type of treestones with the largest distribution across the United States was the work of the Woodmen of the World.  Joy Neighbors has a blog site with some excellent images and a good explanation of this organization founded by Joseph Cullen Root.  (http://agraveinterest.blogspot.com/2011/06/woodmen-of-world-and-tree-stone-grave.html) Joy Neighbors explains that Woodmen of the World was a large fraternal organization, which first provided free, and then for several decades later, with an additional fee on an individual's insurance policy, would provide a treestone headstone for their members. (Images above) A book, "Life and Speeches of Joseph Cullen Root and The Glories of Perfected Woodcraft", was written and is now in the public domain.  The Library of Congress has a very nice poster of Joseph Cullen Root.  A monument catalog, "The Consumers Monument Company time proof Monuments Design Book No. 22", published in 1904, now in the public domain, carried a number of Woodmen of the World monuments. (Images below)