Recipe from CSAGSI published cookbook "Czech Cuisine"
Czech Noodle Pudding - Nudlovy Puding
1/2 c. butter
1/4 c. sugar
4 eggs, separated
1/4 tsp. lemon extract
12 oz. carton small curd cottage cheese
1/4 c. yellow raisins
1/4 c. chopped almonds
1/4 c. chopped walnuts
8 oz. pkg. wide noodles, cooked and drained
1 c. heavy cream
1/4 c. fresh bread crumbs, or vanilla wafers
Preheat oven to 325 degrees. Grease a 10X6X1 1/2 inch baking pan. Cream butter and sugar in mixing bowl until light and fluffy. Add egg yolks, beat until smooth. Stir in lemon extract, cheese, raisins, almonds, walnuts and noodles.  In another mixing bowl, beat egg whites until stiff but not dry. Fold into noodle mixture, turn into prepared pan. Pour cream over top, and sprinkle with bread crumbs.  Bake in preheated oven for 50 minutes.
Recipes Submitted To CSAGSI
If you would like to send us a favorite Czech or Slovak recipe: contact: webmaster@csagsi.org
Thank you to Kino for sending in this family recipe
Knedliky (Dumplings)
3 1/4 c. sifted flour
1/2 tsp. baking powder
1 1/2 tsp. salt
2 eggs
1 1/2 c. milk
1 tbsp. butter
2 slices bread, cut into small cubes
Butter or margarine
Sift the flour once, measure and resift with the baking powder and salt.  Beat the eggs slightly, add the milk and blend. Stir into sifted flour mixture until the dough is smooth.  Stir in melted, but not hot, butter. Let stand for about 30 minutes.
Fry the bread cubes in a small amount of butter until lightly browned. Cool. Add to the dough and blend.  Make dumplings the size of a small apple, form into a ball on a floured pastry canvas or board, then drop into gently boiling salted water.  They will sink to the bottom of the pan.  After a few minutes of cooking, loosed the dumplings from the bottom of the pan with the tines of a fork. Cover and cook for 10 to 15 minutes, or until a dumpling broken apart with the tines of a fork is done. makes 8 to 10 dumplins. Serve with roast meat or fowl.
Thank you to Kino for sending in this family recipe
Sisky (Filled Doughnuts)
1 cake compressed yeast
1/2 c. lukewarm cream
1 tsp. sugar
4 eggs, beaten
1/4 c. butter or margarine
2 tbsp. sugar
1 c. lukewarm cream
1/2 tsp. salt
2 tsp. rum or brandy
4 c. sifted flour
Dissolve the yeast in 1/2 cup lukewarm cream, add 1 teaspoon of sugar and let stand for about 10 minutes.  Combine the eggs, melted butter, which has been cooled, sugar, cream, salt and rum or brandy.  Add the yeast mixture.  Add flour to make a soft dough.  Beat until the batter is smooth.  Let rise until double in sulk.  Punch down. Turn out on lightly floured board and roll to 1/2 inch thickness.  Cut into 2 inch squares, place a teaspoonful of thick preserves or a cooked, pitted, prune in the center of each.  Fold in half and seal the edges, kneading them slightly so that the filling will not come out.  Place on a floured board so that the sealed edge is on the bottom. Let rise until double in bulk.  Fry in dee fat, 350 degrees until lightly browned. Cool and sprinkle lightly with confectionary sugar.
Images Above - Courtesy of Richard Kilmer
When we lived in on our Wisconsin farm, my two uncles also had farms and lived close by.  I knew it was morel mushroom hunting time when they would show up at our farm wearing their boots and holding their buckets. Off we would drive on the tractor to the woods.  I seem to remember that hunting season was in the later spring when temperatures warmed enough for the mushrooms to sprout from the ground.  As farmers we liked drier weather for planting, but rain to get the seeds to emerge as plants and the crops to mature.  The mushroom however, likes damp weather and damp locations.  I was usually directed to search out the areas around places with downed trees, downed big tree branches and places with lots of leaves clumped together.
A successful hunt meant we would all return with a good amount of morels.  Someone always received bragging rights for the most filled bucket, or the largest morel found.  We had several ways of taking care of our mushrooms.  Some, of course, would end up on the dinner table for the next few days.  Mashed potatoes and mushroom gravy would usually be on that table for several days following a good hunting session.  My mother and aunts had a method of canning the morels.  We would also spread them out on a large tray of some sort and put them up in the second floor of the grain shed to dry out.  The dried morels would last quite a while.
Today the mushroom fits prominently in several Czech festivals.  The International Houby Festival has been in existence for 50 years.  Cicero and Berwyn, Illinois continue the tradition, which has taken place in October.  Not to be outdone, Czech Village, Cedar Rapids, Iowa, also hosts a festival.  The city website is a useful link to this: http://homegrowniowan.com/ .
While we Czechs may have a good claim to the morel and other mushrooms as part of our heritage and diet, the morel fascination continues to grow outside the boundaries of our communities.
If we just use the morel as an example, YouTube videos abound on hunting, preparing and preserving the morel mushroom.  Websites, too numerous to list, even including one www.morels.com are available for those interested in the morel.  There is a Facebook page related to the Illinois morel mushroom - https://www.facebook.com/IllinoisMorelMushrooms/ . Another Facebook site, a closed group (must join) lists 23,475 members - https://www.facebook.com/groups/morelmushroomhunting/?source_id=269396733153863 .
YOUTUBE - Good Morel Hunting Video on YouTube - https://www.youtube.com/watch?v=0TOLXyweTpk
I am more interested in actually eating the morel or other mushrooms, so I have several favorite cooking websites that I have used in their preparation.  These include: www.thegreatmorel.com , http://www.midwestliving.com/food/fruits-veggies/morel-mushroom-recipes/. www.czechcooking.com, www.czechcuisine.net, and www.alittlebitofczech.com .
A number of years ago, our society published a small cook book, "Czech Cuisine", which included these recipes:  (Listed Below)
Mushroom Gravy – Houbova Omacka
½ lb. fresh mushrooms
1 small onion, chopped fine
2 tbs. butter
2 tbs. flour
Pinch of caraway seeds
I cup soup stock or ½ cup sour cream and ½ cup soup stock
Peel and wash mushrooms and cut into slices.  Fry onion in butter; add flour, then liquid. Bring to a boil, stirring well. Add mushrooms, caraway seeds, salt, and simmer until mushrooms are soft.  Serve with meat and dumplings.
Mushroom Gravy – Houbova Omacka
1 cup water
2 cups beef stock
1 dill pickle, diced
1 tbs. pickle juice
salt to taste
Roux to thicken
1 cup dry mushrooms
Put above ingredients to boil, except mushrooms.  Add mushrooms when liquid is boiling and boil for ten minutes. Thicken with roux made from 4 tbs. margarine and 4 tbs. flour.  Serve with meat and dumplings.
Richard has more than morel mushrooms on his Wisconsin farm.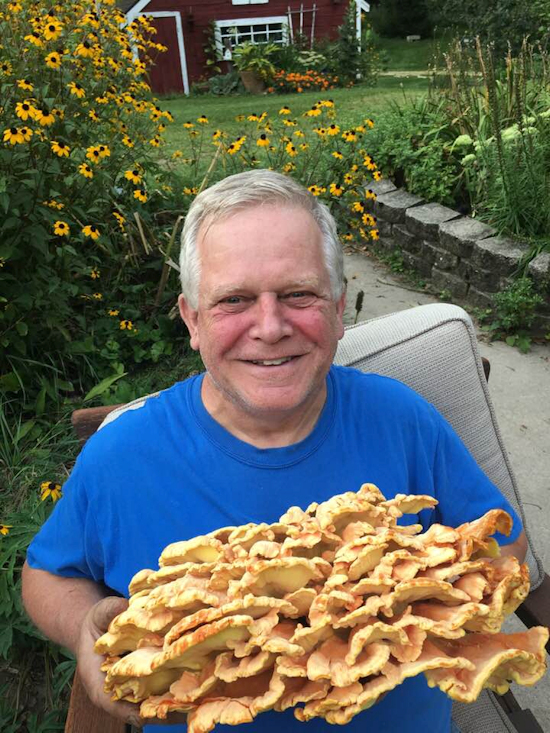 "I had to climb 30 feet up into a tree to pick this chicken of the woods mushroom and this is only part of it so guess what we're having for dinner tonight? It was amazing, I like it even better than morel mushrooms. We fried them and then are dipping them in Thai Curry Sauce. The closest I can describe is chicken strips, but much tastier. Laetiporus is a genus of edible mushrooms found throughout much of the world. Some species, especially Laetiporus sulphureus, are commonly known as sulphur shelf, chicken of the woods, the chicken mushroom, or the chicken fungus because many think they taste like chicken. The name "chicken of the woods" is not to be confused with the edible polypore, Maitake (Grifola frondosa) known as "hen of the woods", or with Lyophyllum decastes, known as the "fried chicken mushroom". The name Laetiporus means "with bright pores".Individual "shelves" range from 5 cm to 25 cm (2"-10" inches) across. These shelves are made up of many tiny tubular filaments (hyphae). The mushroom grows in large brackets - some have been found that weigh over 45 kg (100 pounds). It is most commonly found on wounds of trees, mostly oak, though it is also frequently found on eucalyptus, yew, sweet chestnut, and willow, as well as conifers in some species. Laetiporus species are parasitic and produce brown rot in the host on which they grow."
Thank you Richard for your picture and great description.