Kolar Brothers - Edward & Otto
Professional Basketball Players
Edward and Otto Kolar were basketball players during the 1930's, an era of "barnstorming", when teams would travel and play numerous games with local and, at times distant, teams.  Both would also play professionally, yet both would also support themselves and their families by holding down a daytime job.  Edward and Otto did not just participate in basketball.  Not covered here, but carried in many of the Cicero and Berwyn newspaper articles of the same time period, were descriptions of the involvement and playing ability of the Kolar brothers in numerous softball teams and leagues.
Edward Kolar, born on April 30, 1909 and Otto Kolar, born December 6, 1911, were the sons of Anton Kolar and his wife, the widow Anna Divis Wolf.  Parents, Anton and Anna, were married on September 13, 1902 in Chicago.  Their mother would die in January of 1920.
Census 1910
Illinois Cook Chicago Ward 12 D0584 Page 43 2133 W. 18th Pl.
Anton 31, Anna 31, Charles 13, James 6, George 3, Edwin 1
Note: Divis family members living at same address
Census 1920
Illinois Cook Cicero D0054 Page 11 5333 23rd
Anton 41, Anna 41, James 16, George 13, Edwin 11, Otto 8,Lillian 5
Edward and Otto attended Morton J. Sterling High School.  Ancestry may have a yearbook picture of one of them.  No newspaper articles have been found so far describing participation in sports while in high school.
Census 1930 Illinois Cook Cicero Page 18 at 5333 23rd
Widow Anton 51, George 23, Edward 20, Otto 18, Lillian 15
Married son James A. Kolar 26, wife Lillian Formanek Kolar 25
Like father, Anton, Edward and Otto appear to be working at Western Electric.
Edward Kolar married Viola Steinecke on June 9, 1934 at Saint Marks Church in Chicago.  Brother Otto was the best man.
Census 1940 Illinois Cook Cicero 16-135 Page 20 5333 23rd Street
Edward F. 30, Viola 29, Viola Ann 5, Rosemary 3, Ruth 7/12
Edward working for the Cicero Park District
Otto Kolar married Mildred Borovansky on August 10, 1935 at the Millard Avenue Presbyterian Church.
1940 Wisconsin Sheboygan Sheboygan 59-28 Page 23 432 Superior Avnue
Otto Kolar 28, Mildred 24, Loretta 3, Anton Kolar 61
Otto is listed as a maintenance worker in a toy making company.
Image Left: Cicero Life Newspaper, January 14, 1938, Friday, Page 7.
Edward Kolar
Career information
High school
J. Sterling Morton (Cicero, Illinois)
Playing career
1932–1943
Position
Guard
Career history
As player:
1932–1935
House of David
1935–1936
Cicero Elks
1935–1940
Cicero Merchants
1936 - 1938
Chicago Duffy Florals
1939
Sheboygan Red Skins
1940–1941
Chicago Pepsi Cola
As coach:
1942–1943
Clintonville Truckers Wisconsin
Source: https://en.wikipedia.org/wiki/Eddie_Kolar
Otto Kolar
Career information
High school
J. Sterling Morton (Cicero, Illinois)
Playing career
1932–1942
Position
Guard / Forward
Career history
1932–1935
House of David
1935–1936
Cicero Elks
1935–1938
Cicero Merchants
1936 - 1938
Chicago Duffy Florals
1938–1941
Sheboygan Red Skins
1941–1942
Chicago Bruins
(Note: Chicago Bruins was owned by George Halas)
Career highlights and awards
All-NBL Second Team (1940)
Source: https://en.wikipedia.org/wiki/Otto_Kolar
The Cicero Merchants was one of the numerous basketball teams the Kolar brothers played on.
On Wednesday, March 13, 1935, Page 14 - "Cicero Merchants Whip Duffy Florals Decisively, 41 to 26".  (Note: years later the Kolars would be on the Duffy Florals team.)
"Scoring an overhelming 41-26 victory over the highly touted Duffy Florals Friday night, the Cicero Merchants established themselves as of of the classiest teams in the Chicago territory.....Otto Kolar, devastating long shot artist lived up to his fame by starting off with a shot from midfloor which swished through the net without touching the rim.....Little Eddie Kolar probably won the fan's hearts with his marvelous floor play.  An untiring dynamo of human energy, Eddie bounced along the floor, stealing the ball from the astounded professional team.  Besides his floor play Eddie managed to find time to sink four baskets which kept the fans up on their feet cheering.".....
On Friday, March 20, 1936, Page 6, The Cicero Life of Cicero, Illinois reported the The New York Celtics had come to town to play the Cicero Merchants (Celtics, same name, but not the Boston Celtics NBA team).  The New York Celtics were the reigning world professional basketball champions, but not the day they played the Cicero Merchants in front of 500 fans in the Cicero Stadium.
Summarizing the article, Eddie Kolar played the game of his life as his amazing accuracy on the basketball court propelled the Merchants to victory.  As usual, his brother Otto, participated in this victory.
On Wednesday, January 12, Page 9, the Cicero Life newspaper of Cicero, Illinois, provided a good summary of the season's sucess with the Kolar brothers as part of the Cicero Merchants team.
The Merchants were schduled in the upcoming week to play their co-leaders of the Windy City League, the Chicago Hebrews.  The Merchants only had one loss so far into this season.  Otto Kolar is mentioned in the article as being a significant reason why the team was doing so well, and even this being two years later, team mate brother Eddie, is still being celebrated in the Merchant's victory over the New York Celtics.
In 1937 and 1938, the Kolar brothers were again recognized locally for their basketball skills.
Cicero Life newspaper of Cicero, Illinois, Friday, April 1, 1938 - "Western Cage League Gives Prize Awards" - "Trophies were presented to the players voted most valuable to their teams in the Hawthorne club cage league Friday night at Albright gymnasium....  Otto Kolar, 1419 S. 57th Ct., captain of the Red team and second highest scorer in the league was chosen to receive the major award as the most valuable player in the league.  Otto is a strong defensive player and is considered one of the best long shot artists in the metropolitan area.  Last season's major award winner, Eddie Koar, 5333 W. 23rd st. was chosed most valuable player on the championship Maroon team.  His leadership, speed, brilliant floor work, and long shooting contributed in no small measure to the success of his squad......"
The Kolar brothers participated in multiple leagues at the same time.  In 1935, for example, they were also part of the Knights of Columbus basketball league.  From the Chicago Tribune, Monday, February 11, 1935 on page 22 - "Carroll Beats St. Cyr, 33-26, and Takes Lead - Kolar Boys Get 20 Points in K. of C. Feature" - "With Eddie and Otto Kolar sinking baskets from all parts of the floor, Carroll defeated St. Cyr, 33 to 26, at the West Side clubhouse yesterday to take first place in the West Division of the Knights of Columbus Basketball league.  Each of the Kolar boys rang up five baskets, mostly on long shots, with Sykora also adding ten points to the total.  Carroll had a 19 to 10 lead on the league champions at the half.".....
During the Great Depression Edward Kolar began his involvement in the Cicero Park District.  An article published in the Cicero Life, Cicero, Illinois on Friday, August 5, 1938 describes an event planned by Recreation Director Edward Kolar, "with the assistance of Margaret Bush, Henry Nevrkla and Otto Kolar."  The Works Progress Administration Recreation Project provided funding for a Kid's Camp during which the Cicero children enrolled, had to bring their own lunch, but all the events and activities were provided through WPA help.
Just several months later, Cicero Life on October 28, described a larger WPA sponsored event "Recreation Program to Be Staged at Cicero Stadium", "under the supervision of Edward Kolar, famous Cicero athlete." Again, with the participation of his brother, Otto.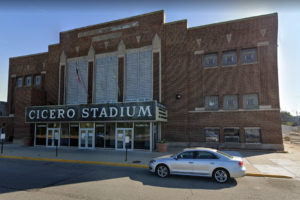 "The Cicero Stadium, spacious Clyde Park recreation center at 52nd Ave. and 19th St. has been completely equipped with facilities for every type of activity, Superintendent Kolar announded.  Boxing classes, basketball classes and leagues, handball, chess and checkers, and volley ball instruction are included in the schedule.  Tournaments in the various sports are being planned and will be staged later in the season, according to the project superintendent.
Among the members of the instruction groups are Thomas Hajek, ping-pong expert; Andrew Bencur, Western Electric Co. and Chicago checker champion; Theodore Bittas, formerly of the American College of Physical Education staff; Margaret Bsch, women's physical education expert, and Otto Kolar, one of the country's outstanding amateur cage stars."
Berwyn Life, Berwyn, Illinois Sunday May 18, 1975, Page 12.
"Friends to pay tribute to Eddie Kolar Friday"
Article Summary: Friends, past teammates, local officials met at the Mar Lac House in Oak Park to celebrate and honor Edward Kolar.  While in high school at Morton High School, Edward playing baseball, he also played basketball on his own at Dvorak Park in Chicago.
At the time of the Depression Edward Kolar was a recreation director for the Clyde Park District, as well as a life guard.  The article listed the numerous teams and organizations Kolar played with: Windy City Softball and Basketball League, the Knights of Columbus Basketball League, Midwest Pro League, Western Electric League, the Ciceronia Club, Polish Falcons, Cicero Merchants, National Union, Carroll K.C., Cicero Traveling Club, and professional basketball teams; the Sheboygan Redskins, Chicago Duffys, Cicero Elks and the House of David.
Edward Kolar also played football and baseball.  The article also mentioned that he played basketball with John Wooden, Joe Lapchick, Bob Gruenig, Bill Shay, Jim Vopicka, Tony Lawless, Ray Meyer, Tom Cunningham and Wilfried Smith.  The article continues with over fifty more names of players that Kolar had played with or against.
Berwyn Life, Berwyn, Illinois, Friday, July 13, 1984, Page 13
"Clyde Lauds Former Director"
Article Summary: The Clyde Park District softball field at 37th and 61st Court was renamed The Eddie Kolar Field.  The Park District Commissioner felt it was a fitting honor as Edward Kolar and his brother, Otto, had recently been inducted into the Illinois Basketball Coaches Association Hall of Fame.
The article continues by describing that Eddie Kolar, siblings, and parents moved from Chicago to Cicero when Eddie was in sixth grade.  Ed worked for the Cicero Park District during the Depression with money provided by the Works Progress Administration.  Kolar was hired to help with park district recreation activites, which would include basketball.
In the article Kolar describes that around the year 1930 he began playing professional basketball.  Teams included a four year stint with the House of David.  A short time for Sheboygan and from 1935 to 1938 was a member of the Duffy's.  Kolar went on to summarize how the team traveled all around, mostly by car, mostly in the Midwest and East, making at times, upwards of $20 per game, which he considered to be good pay.  He most remembers playing against the New York Celtics for which he received forty two dollars.
Eddie Kolar also played for the Cicero Merchants (as did his brother).  They also played against the New York Celtics in the Cicero Stadium.  They won that game.  Eddie Kolar scored 22 points in what was considered an upset win against the the New York Celtics.
Note: (The Original Celtics were a barnstorming professional American basketball team. At various times in their existence, the team played in the American Basketball League, the Eastern Basketball League and the Metropolitan Basketball League. The team has no relation to the NBA Boston Celtics, other than as an indirect inspiration. The franchise as a whole was inducted into the Naismith Memorial Basketball Hall of Fame in 1959. https://en.wikipedia.org/wiki/Original_Celtics )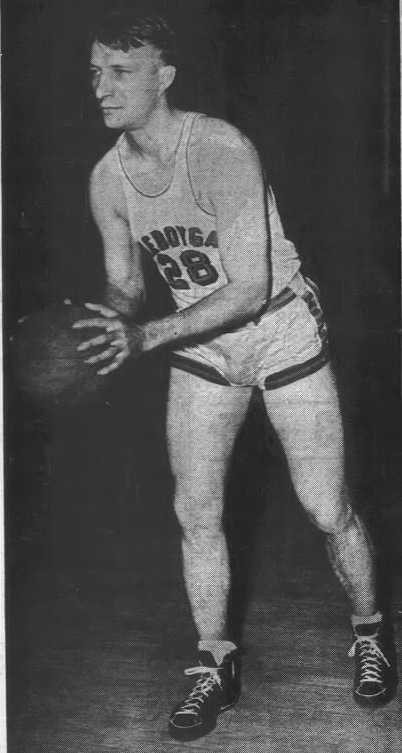 Numerous articles have appeared in the Sheboygan Press of Sheboygan, Wisconsin, related to Otto Kolar:
Monday, November 20, 1939, page 20: Tom Brice (once a coach for the Midwest Basketball Conference Chicago Duffy Florals, and involved in Basketball in the Chicago area) hailed Otto Kolar as the "best guard in the Middle West".  "Although young in age, Otto Kolar is a verteran of the cage courts, having served with some of the finest around Chicago, but in recent years, Kolar's name has been associated with teh Cicero Elks, famous professional team, and with a quintet in the Windy City League."
The article mentions that this was the beginning of the second season in which Otto Kolar was playing for the Sheboygan team, and remembers that Kolar impressed the team from the beginning, with his efforts during last season's opening game against the Akron Firestones.
Described as one of the best long range shooters, opposing teams began to create special defense tactics just designed for Kolar.
Otto Kolar was made team captain by the Redskins coach, and the article appears to indicate that while temporary now, it will probably become a permanent one soon.
Monday, January 15, 1940, page 12, provides a good explanation of how Otto Kolar became a player in the National Basketball League.
The article describes that he was a very skilled player, on the floor from beginning to ending game buzzer, rarely on the sidelines during game time.
Living in Cicero, Otto Kolar played for the Cicero Elks, a team which the Sheboygan Redskins had played numerous times.  When the Redskins became part of the National Basketball League, they began to recruit Otto for their team.
The article goes on to describe that Otto was already married and working in the Chicago area.  Arrangements were made for Kolar to have a better paying job in Sheboygan.
After that the Otto Kolar family moved to Sheboygan, where he would also play baseball with the Sheboygan Pine Club and a local softball team.
Thursday, February 17, 1941, Page 22, carried an article describing an "Otto Kolar Day" which would take place in Cicero, Illinois at the Cicero Stadium.  The stadium would host an exhibition game between the Cicero Merchants (a team the Kolar brothers both played for) and the Sheboygan Redskins.
Both Illinois and Wisconsin fans, friends and family would be there to celebrate with Otto.  The Kolar brothers would be on opposing teams for "Otto Kolar Day".
Berwyn Life Newspaper, Berwyn, Illinois - Friday, March 21, 1941, Page 9, "All-stars await Sheboygan Invasion" - The article listed all of the local basketball stars who would play against the Sheboygan Redskins of the National Pro Basketball League at the Cicero Stadium.  While most are younger players of the area, the article describes "Such veterans of barnstorming trips with the House of David as Eddie Kolar, Ed Mashek and Bill Koche..... and "Bill Koche and Eddie Kolar - Western Electric league stars: former House of David Players."  The Berwyn Life article also describes Otto Kolar, "while playing homage to a favorite son, Otto Kolar, captain of the Redskins.  Kolar made his mark in these parts, and is regarded as one of the better guards and greatest longshots in the pro league."
Image Above: The Sheboygan Press, Sheboygan,. Wisconsin, Thursday, February 17, 1941, Page 22  Also Used: The Sheboygan Press, Monday, November 20, 1939, Page 20.
An article appearing in Cicero Life, Cicero, Illinois on Friday, March 15, 1940 provides additional background for the Kolar brothers.  "Pro Tourney" - "When the $15,000 pro basketball tournament opens Sunday at the Madison armory, it will serve as a homecoming for one of the greatest performers in Cicero cage history.  Otto Kolar, whose name has been a byword in local harwood circles for several years, will come to town with the Sheboygan Redskins....Kolar is one of the few players in the National Professional Basketball league who did not achieve national rating in collegiate competition.  But his performances in free lance circles and as a member of the House of David club has won him great renown.  Teamed with his equally famous brother, Eddie, the Kolars were known wherever the hardwood game was played in the entire Chicago and suburban area.  Both were outstanding performers in the Windy City league, the midwest's No. 1 A.A.U. circuit."......
Edward S. Kolar, 78, the athletic director for the Clyde Park District for Cicero from 1948 to 1974 and for whom the softball fields at 37th Street and 60th Court are named, died Saturday in Humana Hospital, Hoffman Estates, following a short illness. ' Services for the resident of Bartlett, formerly of Cicero, were held yesterday in the Moravecek Funeral Home, Cicero, followed by a Mass in Mary Queen of Heaven Church, also in Cicero. Interrhent was in Queen of Heaven-Cemetery , Hillside.' - Mr. Kolar was a member of the Illinois Basketball Hall of Fame and Old-Timers Basketball Association. The traveling trophy that goes to the winning team in The LIFES Berwyn-Cicero Junior All-Star Basketball game also is named after Mr. Kolar. t J . Mr. Kolar also placed professional basketball for the Sheboygan Redskins, Chicago Duffys and the House of David Club which toured the country for five years.
Survivors include his wife, Viola; two daughters, Viola White and Ruth Matson; a son, Preston; one brother; one sister; 14 grandchildren; and seven great-grandchildren. (Berwyn Life Newspaper, Berwyn, Illinois, Wednesday, March 9, 1988, Page 40.)
K0LAR Otto J. Kolar, 83, Loves Park, died 5:40 p.m. Monday, April 10, 1995 in his residence. Born Dec. 6, 1911 in Chicago, IL, son of Anton and Anna Divis Kolar. Married Mildred Borovansky in Chicago. August. 10. 1935. She died July 3. 1995. Retired from Western Electric In 1973. Member of Cicero Moose Club. Illinois Basketball Hall of Fame, former Professional basketball player with the Chicago Bruins and the Sheboygan Redskins in the late 1930'a and early 1940s. Survivors Include two daughters, Loretta (Gordon) Johnson, Lakeport, Ml. and Judith (John) Stakowski, Loves Park; live grandchildren, Daniel (Robin) Johnson, Cathy (Mark) Davis, Laura (Douglas) Curry, Linda. Cheryl Stakowski; 10 great-grandchildren; sister, Lillian Kolar, LaGrange; predeceased by parents and three brothers. Services 1 p.m. Saturday in Delehanty Funeral Home, Ltd., 401 River Lane, with Reverend Kingsbury officiating Entombment In Sunset Memorial Gardens. Visitation from 7 p.m. to 8:30 p.m. Friday at the funeral home. (Chicago Tribune, April 13, 1995)
Otto Kolar, 83; played professional basketball in the 1930s Otto Kolar, 83, who played professional basketball in the 1930s for such teams as the Sheboygan Redskins, the House of David, the Chicago Bruins and the Cicero Merchants, died Monday in Loves Park. 'He graduated in 1929 from Morton High School in Cicero where he and his brother Edward played on a Suburban League championship team. Mr. Kolar then played professional basketball during the Depression. "I remember seeing Otto and Eddie Kolar play for Western Electric," said Bob Soucek, a retired Morton High School teacher and coach. "Good players in those days often worked in the plant and played on the plant teams." Ray Meyer, former DePaul coach, said, "I remember seeing the Kolars play at Cicero Stadium. They were good players. Otto was a very tough player. Few people went to college in those days, so the industrial teams were very good."
Survivors include two daughters, Loretta Johnson and Judith Stakowski; a sister; five grandchildren; and 10 great-grandchildren. Visitation will be from 7 to 8:30 p.m. Friday in Delehanty Funeral Home, Loves Park. Services will be held at 1 p.m. Saturday in the funeral home. (Chicago Tribune, April 14, 1995)