Bohemian National Cemetery - The Civil War 18
Researching the 18 Civil War Veterans, buried in Bohemian National Cemetery, who are listed on the plaque alongside the BNC Civil War Memorial Monument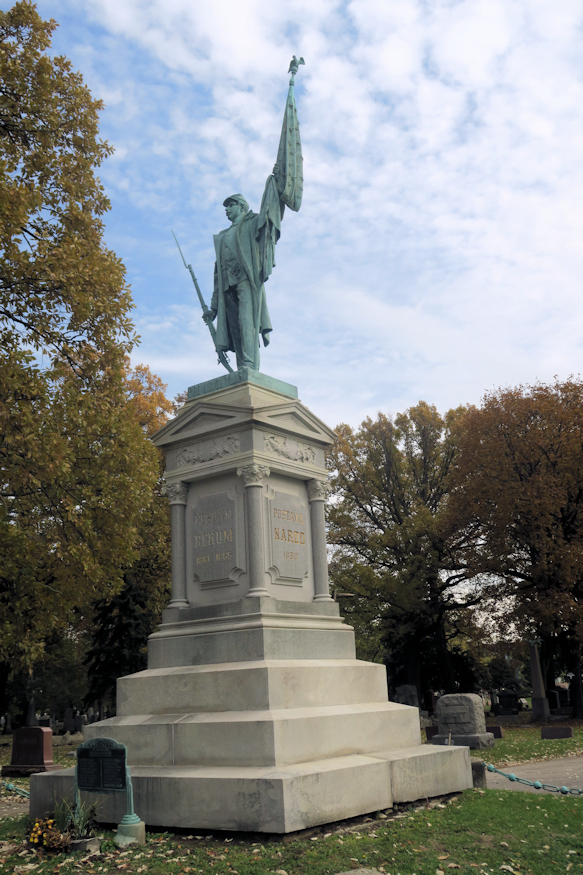 Bohemian National Cemetery - Civil War Commemorative Monument
On December 5, 1888, a committee, representing many Bohemian organizations, met to begin discussions to authorize the building of a monument to commemorate Czechs who served in the military.  On July 28, 1889, thousands gathered for the laying of the cornerstone for the new monument.  One of the names used to describe the monument was "Bohemian Soldiers and Sailors Monument".  The sculptor of the monument was Joseph Klir.  On May 29, 1892, thousands again gathered and paraded to celebrate the unveiling of the new monument.[i]
The commemorative plaque listing the names of eighteen veterans as added in 1940.
While the plaque lists eighteen veterans of the Civil War, there are more veterans of that war buried in Bohemian National Cemetery.
This is an ongoing research project to discover information on each of the eighteen Czechs listed on the commemorative plaque.  We welcome help in creating a better summary of each of these veterans.