Mapping Your Czech Genealogy
I feel that discovering your Czech ancestry is an easier task when compared to other ancestries.  The Internet seems to be filled with information and resources to support your research.  It also seems that even the Czech government and other Czech institutions seem to help with your research.
The same can be said for using maps to supplement your genealogy research.
My family comes from the Kralovice region of the Czech Republic.  I am going to use Kralovice homes 138, 177, 185, 187 as examples when a map site is listed below which can help me in my family research.  The ** symbol will indicate this.  I chose most of the homes I have listed, already knowing they existed in the past and still exist today.
General Internet Sites for Current Czech Maps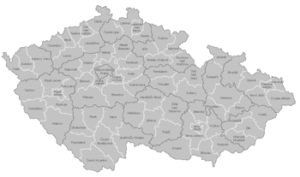 https://en.wikipedia.org/wiki/Regions_of_the_Czech_Republic - Wikipedia has a web page which shows the current Administrative Regions of the Czech Republic and the Districts which are part of each region. The web page also shows the flag and coat of arms of each region.  Image Left - Click Here For Larger View
https://en.mapy.cz – A Czech web site displaying maps which appear to be quite similar to Google Maps. ** When I type in Kralovice 185 into the search bar when I reach this web site, it finds Kralovice 185 and also displays an image of the house. The general map, which appears, also lists the home numbers of almost all homes shown on that general map. There are other options for viewing the area.  Panorama and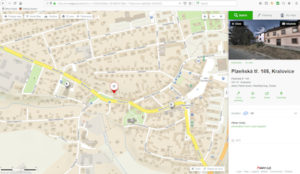 3D, along with a Historical Map feature, which has German spellings for the location.  Click Here For Larger View of Mapy CZ Kralovice 185
There is another really nice feature.  ** One of the other features this map web site provides is "Information from the Land Register".  Using Google Translate it gives me a bit more information on Kralovice 185, along with the current owner.
https://www.gosur.com/map/czech-republic/ - Another web site for Czech maps, but I have not been able to discover any great value to it yet.
https://www.google.com/maps - Google Maps has several features of interest, though they are close to that offered by https://en.mapy.cz, but require a little more work. When I type in Kralovice 185 into the search bar, it does show me a generalized map of the village of Kralovice. ** I can switch to "Satellite View" and then I can zoom in and view the homes in Kralovice.  But unlike https://en.mapy.cz, I have to click on a home for its address to be revealed.  Unless I know where my home of interest is located, I have some clicking to do.
Clicking on the home of interest does yield an image of that home (most of the time, as it appears some of the smaller villages do not always have street view options.
Family Search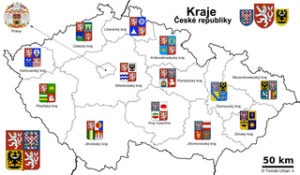 https://www.familysearch.org/wiki/en/Czech_Republic_Maps - Family Search web page with a focus on describing various Czech maps along with some links to Czech map sites.
Historical Maps
http://oldmaps.geolab.cz/map_root.pl?lang=en&map_root=mul - Müller's map of Bohemia from 1720 and Müller's map of Moravia from 1716 in print from 1790
https://www.davidrumsey.com/ - The David Rumsey Historical Map Collection has over 11,000 maps online.
https://www.loc.gov/collections/general-maps/about-this-collection/ - Library of Congress Map Collection
https://www.old-maps.co.uk/#/ - British Historic Map Archive
https://mapy.mzk.cz/en/ - Moll's Map Collection
https://www.oldmapsonline.org/en/Czech_Republic - Just as its name suggests, this site has a good number of Czech historical maps for viewing.
https://cartography-gis.com/docsbca/iccgis2016/ICCGIS2016-75.pdf CZECH HISTORICAL ATLAS – A summary paper (PDF) with a series of good maps as illustrations.
http://www.hiu.cas.cz/en/collection-of-maps.ep/ - Institute of History of the Czech Academy of Sciences – "For users of the collection, there is an electronic, on-line accessible catalogue available, which is part of the catalogue of the Library of the Institute of History, and includes maps and plans. It is currently possible to search in them and browse in a preview cartographic documents from the period from the 17th to the first half of the 20th century, including Section III Military Mapping." NOTE: Additional historical map links here.
http://www.chartae-antiquae.cz/en/ - "Virtual Map Library was created as one of the results of project Cartographic Sources as Cultural Heritage. The goal of the project, financed by Ministry of Culture, is to devise and refine new methods for digitalization and online publication of cartographic works. Digital maps of selected regions will be used for the reconstruction of historic landscape and settlements.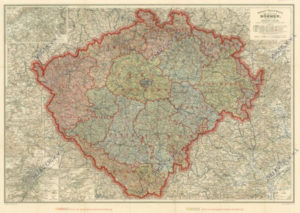 To achieve this goal we needed digital representations of old maps, atlases and globes. On that account we approached archives, museums, libraries etc. with an offer to digitize their map collections as part of the project. The participants range from nation-wide to regional institutions and from their maps is shaping up a unique digital map collection, accessible on our web portal. In 2015, when the project ends, we expect this digital library to contain around 40 000 maps, plan, atlases and globes."
Map Citation:
Hölzel´s Hand-Karte des Königreiches Böhmen. In: Virtualní mapová sbírka Chartae-Antiquae.cz [online]. Zdiby: Výzkumný ústav geodetický, topografický a kartografický, v.v.i. [cit. 2019-09-09]. Dostupné z: http://chartae-antiquae.cz/en/maps/11064
Cadastral Maps
Cadastral maps are genealogy gems.  They are maps of villages and farm lands.  They have the names of those who worked those fields at the time the maps were drawn.  They show homes and house numbers present at the time of the map being drawn.