The CSAGSI Genealogy Collection is housed in the Riverside Public Library. The Collection (see below for details) is open to the public. We continue to staff the collection with our knowledgeable volunteers on Tuesdays, Thursdays, and the 2nd and 4th Saturday of each month from 10:00 am to 2:00 pm. Other times are available by appointment.
The CSAGSI Genealogy Collection
The Riverside Public Library
1 Burling Rd, 1st Floor - Elevator is available
Riverside, IL 60546
708-442-6366
www.riversidelibrary.org
Hours
The CSAGSI Collection is open to the public all year during regular Riverside Public Library hours - check the website or call for more information. Our volunteers will still be available to help with your research on Tuesdays, Thursdays, and the 2nd and 4th Saturday of each month from 10:00 am to 2:00 pm. Other times are available by appointment. For additional information, contact: csagsilibrary@csagsi.org
Collection
Below are links to a list of items in our library and to a list of certain items in the collection that will be helpful to the genealogist.
Total CSAGSI Collection 1848 thru KR Updated July 2014
Total CSAGSI Collection KU thru Z Updated July 2014
Genealogy Books Updated July 2014
Vertical File - items not found in book form
CSAGSI publishes a quarterly journal - the Koreny. These journals have been indexed. Copies may be purchased from CSAGSI.
Koreny Index Updated December 2020 To order the Koreny, contact info@csagsi.org
The materials in the CSAGSI Collection must be used only in the library. The collection is non-circulating. Please do not remove materials. We have hosts available to help you find books and answer your genealogy questions.
The collection has Internet and WIFI access, photocopying ability and a subscription to Ancestry Library and other genealogy websites to help in your search.
Riverside library is a Family History Center Affiliate Library.  This provides us with additional access to the vast record collection of Family Search.  Access is available when CSAGSI volunteers are in the Collection Room.
The collection is heavily oriented toward materials on Czech and Slovak ethnic heritage and community. Little material is directed toward other ethnic groups – Irish, German, Scandinavian, etc. Material in the "Chicago" collection contains significant detailed information about this dynamic, innovative world metropolis.
Beginning with its founding in 1996, CSAGSI established a goal of providing the best genealogy research collection specializing in Czech and Slovak books and materials in America. Now, the current collection with over 1000 volumes, provides an anchor for comprehensive genealogical research dealing with immigrant families who have lived in or passed through Chicago.
The resources that make up the collection are helpful to both beginning and experienced genealogists. The society is continually publishing, translating, indexing and adding resources to the library's collection.
Visiting CSASGI Collection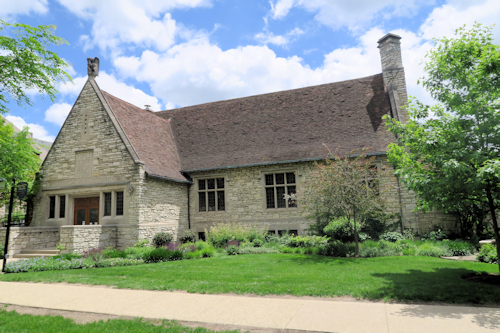 The CSAGSI Collection is located within the Riverside Public Library of Riverside, Illinois. The library opened in 1931 and has undergone several renovations and additions.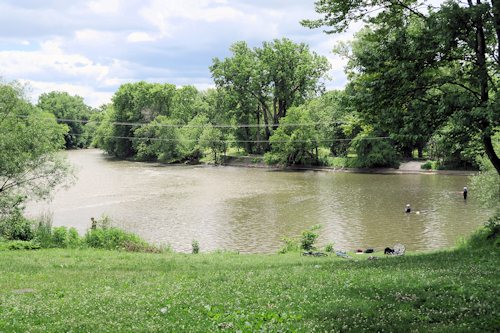 The Riverside library is located along the banks of the Des Plaines River as it winds its way through Riverside eventually flowing into the Illinois River a little southwest of Joliet, Illinois.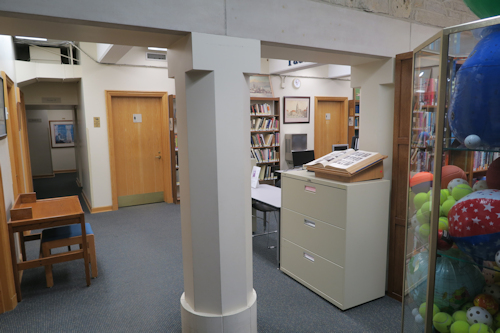 The CSAGSI Collection is located on the ground floor, around the corner from the children's section of the Riverside Library. Usually, upon entrance, there will be a sign up sheet to help us keep count of how many people our volunteers help during the course of the month.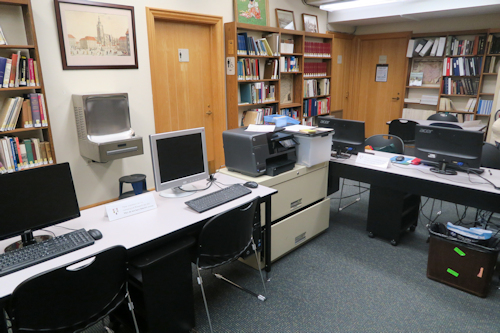 Computers with internet access and genealogy databases are part of our library, along with a printer and a scanner. We hope that if you use our technology you help defray the cost of maintenance by leaving behind a donation to the CSAGSI.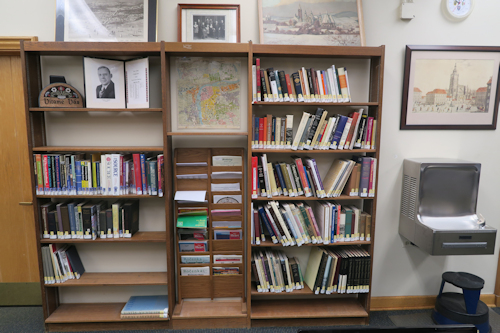 Many of our books and reference materials are stored on shelves, but not all of our materials are out on display.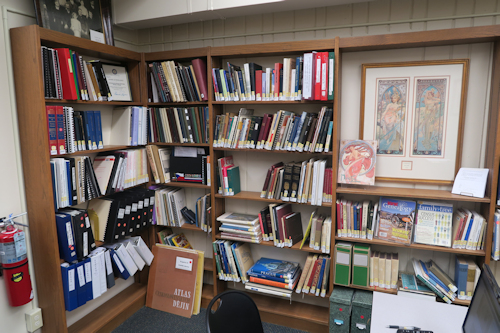 A complete collection of our newsletters and magazine can be found on one of the book shelves. Volunteers staff the library on Tuesdays and Thursdays and on two Saturdays during the month.
Genealogy Look Up Request
The CSAGSI Paul M. Nemecek Genealogy Collection Welcomes You
Our volunteer library staff is happy to assist your genealogy research by providing lookups in the following records and indexes:
Index to the Eulogy Notes of Frank Kostka 1949-1992
Index to the Records of Linhart Funeral Home –1913-1954
St. Procopius Death Records 1872-1915
Bohemian National Cemetery Records, 1877-2003, Chicago, Illinois
Denni Hlasatel Obituary Index, 1891-1995
Please download and follow the directions on the Lookup Form, print it and send it, with a check for the appropriate fee, and a self addressed envelope with sufficient postage to:
CSAGSI, P.O.Box 313, Sugar Grove, IL 60554-0313
CSAGSI KORENY
Beginning with the first issue, August 1996, the CSAGSI journal KORENY, has been published quarterly.
The KORENY accepts articles for publication from members and non-members.
All issues are available online, in a read only format, for current CSAGSI members.
All issues of the KORENY are available for research in the Collections Room at the Riverside Public Library.
All issues of the KORENY are available for purchase.
Click Here to view an Index of articles published in the KORENY from 1996 to 2019.
Bohemian National Cemetery - Chicago - Burial Index
Denni Hlasatel Obituary Index
Denni Hlasatel Obituary Index Available at CSASGI Collection Room - Riverside Public Library
This Index is available for use online for CSAGSI members.

The Index is a valuable resource for discovering your Czech Ancestry. It is an alphabetical listing of the names of people who had obituaries printed in the newspaper and the date the obituary was posted. Many of our ancestors that settled in the Chicagoland area only listed their obituary in this Czech newspaper. I feel that finding a Denni Hlasatel obituary for an ancestor is the single best chance for discovering their birthplace in the Old Country and finding names of additional family members.
I start with the Index to find if my ancestor is posted in the Index.
Sometimes when I have accumulated a list of obituaries and I feel like a road trip, I drive down to the Abraham Lincoln Presidential Library in Springfield and go through the microfilm myself to print out the obituaries. I have done this numerous times and have had success and have found the people working there to be really helpful.

Usually now, I order my Denni Hlasatel obituaries online through the Abraham Lincoln Presidential Library in Springfield.
I first discover the publication date of the obituary of interest using my CSAGSI membership and getting to the Members Only Resource Page which has the publication index.
I Register, for free, through Aeon, at the library in order to access the forms, and place a request for obituaries.
https://alplm.aeon.atlas-sys.com/
I receive an email of acknowledgement and the cost for finding and sending the obituaries.
I send a check, and when the check clears, I receive my requested obituaries through email.
Saint Procopius Death Index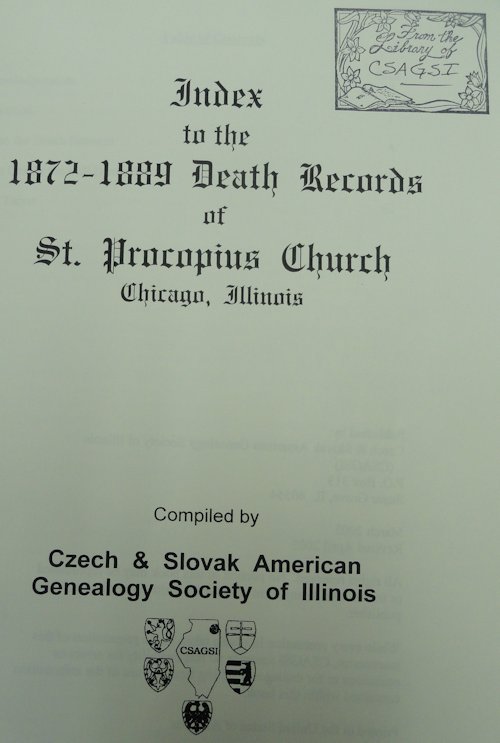 The CSAGSI Paul M. Nemecek Genealogy Collection has something that is not even found at Family Search.
Saint Procopius Catholic Church in Chicago was one of the core parishes serving early Czech families in Chicago. Many of their records are online and available at Family Search. This includes their death records.
But, it does not include the death records index between 1872 and 1889. That index and copies of those records are housed at CSAGSI in Riverside.
Each page offers different information. Some death notes include the burial section of the cemetery for the deceased. Even a few list the Czech village the deceased was born in.
Zlata Kniha - The Golden Book - Svornost 1926 Anniversary Book - Indexed
This index was compiled by and is made available by Judith Mason.
With the encouragement of CSAGSI member Dolores Benes-Duy, Judith Mason volunteered to index the 1926 Svornost Anniversary book.
Not speaking Czech and not realizing this book is in Czech, Judith began this most challenging project. Thanks to Lil Nemec, a Czech language speaker and CSAGSI member, who proof read the first 100 names. With this help, Judith became familiar enough with surnames and non-surnames to go on with indexing. She informed us that there are perhaps some errors within the index, but it can certainly be a most welcome aid in researching.
During her indexing project she found an article stating "I remember Mr. Bilek riding up on his white horse to deliver the Svornost." Mr. Bilek was Judith's great grandfather's brother Jan/John. In another page she found my grandmother's brother, Josef Trsek, who was one of Svornost's first employees.
View the Index (It may take a while to load)
Index is password protected for Member's Only
Leo Baca Books at CSAGSI
Ancestry and Family Search both utilize the Leo Baca Czech Immigration Passenger Lists.  They are a great resource.  Once in a while, no matter how I search, I can not find a person of interest.  The spelling is so mangled during indexing that I can never guess it.  When I am at the CSAGSI Collection in the Riverside Library, I get out the Baca Books and look through pages which at least start with the same letter or two.  I have about a fifty percent success record on finding who I am looking for.