Miles Geringer was born December 22, 1870 in Chicago
Passport Application lists wife Juliette birth as April 9, 1876 in Chicago.
Census 1880 Illinois, Cook, Chicago, D89, Page 10, 463 Canal
August Geringer 38, Antonia 35, Miloslav 9, Vladimir 7, Vlasta 5
Census 1880 Illinois Cook Chicago 150 Page 18 1194 Milwaukee Avenue
Stephen Fribye 39, Betrolena Fribye 29, Julie 4, Blanka 8/12
Census 1900 Illinois, Cook, Chicago, Ward 7, D179, Page 12  150 12th Street
August Geringer 55, Antonia 52, (7 Children, 4 Surviving), Miles 29, Vladimir 27, August 22, Vlasta Mraz (Vraz), Stanislaw Mraz 38, Emil Camsky (Nephew 20, Here 1898)
Census 1900 Illinois Cook Chicago Ward 15 D0489 Page 40 1052 N. Western Ave.
Stephan Pribyl 59, Petranilla 49, Julia 24, Blanche 21, Richard R. 16
Miles Geringer married Julia Pribyl on April 6, 1904 in Chicago.  They were married by Frantisek Zdrubek.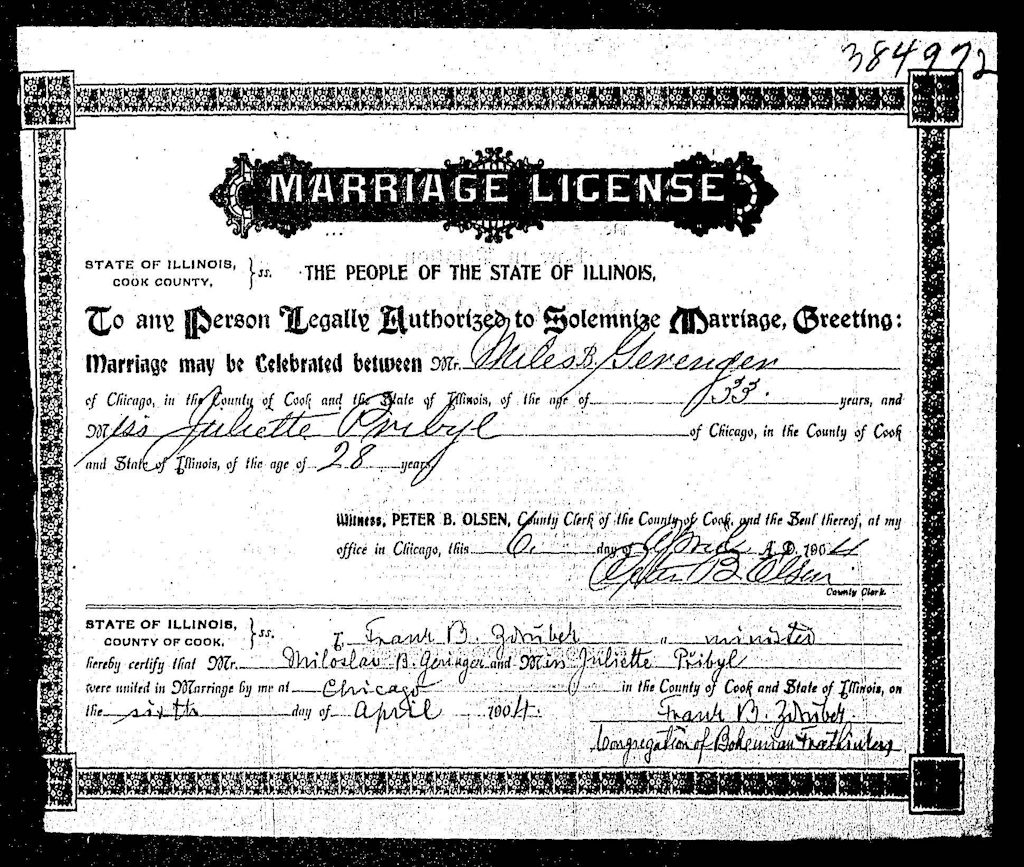 Census 1910 Illinois Cook Chicago Ward 28 D1219 Page 30 3051 Humboldt
Miles B. Geringer 39, Juliette P. Geringer 34, Stephen Pribyl 69
Census 1920 Illinois Cook Evanston Ward 3 D0076 Page 21 604 Sheridan Road
Miles Geringer 49, Juliette 43, Juliette J. 6, Miles A. 4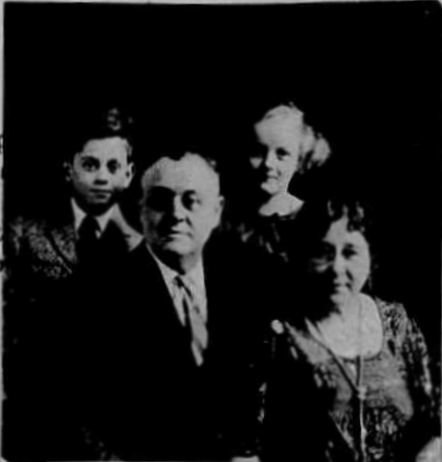 Census 1930 Illinois Cook Chicago New Trier D2209 Page 5 1000 Michigan Avenue
Miles B. Gerringer 59, Juliette P. Gerringer 53, Jane J. 16, Miles A. 14
Census 1940 Illinois Cook Evanston 16-218 442 Elmwood Road
Myles B. Geringer 70, Jane Geringer 26, Myles B. 24
Image Left: The Miles Geringer family from their 1923 Passport Photo.
February 2, 1937 - Chicago Tribune
A Chicago woman has been interested in seeing the current performance of "Jane Eyre" because, on the night when the great Chicago fire Jane Eyre started, her mother was appearing in an amateur performance of " Jane Eyre" in a hall on De Koven street, near the point of the fire's origin. The Chicago woman is Mrs. Miles Geringer, wife of the publisher of the Czechoslovakian newspaper, the Daily Svornost. For weeks before the night of the fire members of a Czechoslovakian athletic, or " turning society," called Sinvenska-Lipa, had been rehearsing the Brontë play, with Mrs. Pribyl, mother of Mrs. Geringer, in the title role. As the performance progressed toward its close the historic cow in Mrs. O'Leary's stable, a stone's throw away, kicked over the historic lantern, and a rumor reached the audience that there was a fire in the neighborhood. The rumor got about just as the the scene in the play was reached and there was some confusion as to whether the stage fire was referred to or one outside. The audience sat through the last act, according to Mrs. Geringer, and dispersed to find the fire was an actuality.
6-5-1938 Tribune
GERINGER Juliet P. Geringer, nee Pribyl beloved wife of Miles B., devoted mother of Jane and Miles Jr., dear sister of Blanche P. Kapsa and Richard S. Pribyl. Resting at chapel, Bohemian National cemetery. Services Wednesday, 2 p. m.
2-22-1958 Tribune
Miles B. Geringer Miles B. Geringer, 87, of 444 Green Bay rd., retired publisher of the Svornost, Bohemian language newspaper published in Chicago from 1875 to 1957, died yesterday in Highland Park hospital. Svornost, the first Bohemian language paper in this country, was founded by Geringer's father, August. They also published a biweekly, Amerikan. Miles Geringer retired from the papers in 1946. Surviving are a son, Miles A.; a daughter, Mrs. Jane Ding wall; two sisters, and a brother. Services will be held at 11 a. m. Monday in the chapel of Bohemian National cemetery, Foster av. and Pulaski Rd,