Augusta Geringer & Rudolph Jaromir Psenka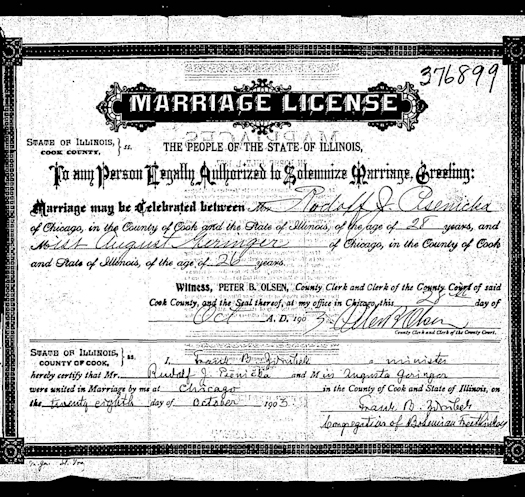 Augusta Geringer was born June 5, 1877 in Chicago.  (Image above: Birth Registration for Augusta Geringer) Augusta married Rudolph Jaromir Psenicka on November 20, 1902 in DuPage County, Illinois. (Rudoph's passport application lists marriage as October 28, 1903).  Image left: Passport photo.
Census 1880 Illinois, Cook, Chicago, D89, Page 10, 463 Canal
August Geringer 38, Antonia 35, Miloslav 9, Vladimir 7, Vlasta 5, Augusta 3
Census 1900 Illinois, Cook, Chicago, Ward 7, D179, Page 12  150 12th Street
August Geringer 55, Antonia 52, (7 Children, 4 Surviving), Miles 29, Vladimir 27, August 22, Vlasta Mraz (Vraz), Stanislaw Mraz 38, Emil Camsky (Nephew 20, Here 1898)
1910 Illinois Cook Chicago Ward 9 D0512 Page 31 541 W. 12th
Jaromie R Psenka 35, Augusta 32
Thomas Kadlec 39, Anna 30, Othelie 3, Viloslav 1 (August Geringer's wife, Antonie Kolar Geringer, had a sister, Anna.  She married a Lawrence Kadlec
August Geringer 64
Jasta / Gusta Psenka 36 (arrived 1908)
1930 Illinois Cook Berwyn D2002 Page 3 1939 Elmwood Avenue
Rudolph J. Psenka 55, Augusta 52
1940 California Los Angeles Los Angeles 60-332  Page 21 849 Gramercy Place
Augusta Psenka 62
Vlasta Vraz 64, Vlasta Adele Vraz 35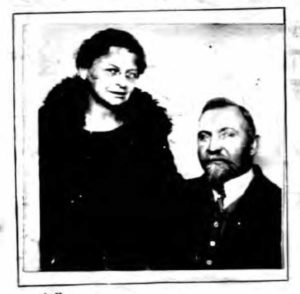 Mrs. August Geringer Psenka died in June of 1967.
Mrs. Augusta Psenka, daughter of the late - August Geringer, founder of the first Czechoslovak daily newspaper, the Svornost, in 1875, died Sunday at her home, 2101 Elmwood Avenue, after a long illness.' The 90-year-old Mrs. Psenka, lived in Berwyn for 32 years. Funeral services will be held today at 2 p.m. at the John T. Chrastka Memorial Chapel, 6301 Cermak rd. Cremation will be at Bohemian National Cemetery.  She was a member of the Bohemian Beseda, the Bohemian Arts Club and the Czechoslovak and American Red Cross. She is survived by her brother, Vladimir A. Geringer of Phoenix, Ariz, and  her niece, Vlasta Vraz of Berwyn, an officer of (he Czechoslovak National Council of America. -The Svornost newspaper had remained in the Geringer family for 75 years. Her late husband, R. J. Psenka, was a well-known publicist and managing editor of the Svornost.
Above: Rudolph Jaromir Psenka was born March 21, 1875 at Jindrichuv Hradec.
Rudolph Jaromir Psenka first arrived in the USA aboard the ship La Bretagne on September 16, 1901, from Port Havre to Port New York City.  The spelling on the ship registry is listed as Rodolph Isemicka.
Information posted by Wikipedia - "Rudolf Jaromir Pšenka, Czech author and playwright, editor of the Chicago Daily Svornost (Concord) from 1909 until his death in 1939. He was also co-founder of the Czech-American News Agency. A veteran of the French Foreign Legion, he wrote several books about his experiences. Pšenka was described as a "Czech-American Renaissance Man" in Malynn Sternstein's book Czechs of Chicagoland. In May 1911 he gave two addresses at the funeral of 5-year-old Elsie Paroubek, whose disappearance was the subject of great public attention and whose murder has never been solved."
Obituary from The Gazette, Cedar Rapids, Iowa on December 1, 1939
"R.J. Psenka, chief editor of the Chicago Daily Svornost, and known to scores of local Czechs, died in a Chicago hospital Wednesday morning following an operation.  He was one of the foremost Czech newspaper men of this country, was an author and for more than 30 years was editor of the Almanac Amerikan with nationwide circulation.
Mr. Psenka was born March 21, 1875 in Jindrichuv Hradec, Bohemia, where he attended a school of higher education and at the age of 19 joined the Foreign legion in Africa, spending four and a half years in garrisons of Algiers and on the border of Morocco. In 1899 he went to Paris as a naturalized Frenchman.  He became correspondent for Czech newspapers in Prague and Chicago and a year later was called to Chicago by the late August Geringer, founder of the first Czech daily in this country.  He toured extensively in this country, visited Czechoslovakia several times and made a trip to Panama writing of his experiences.  His wife is the only surviving relative."

InterOcean 3-19-1909
Bohemian Old Peoples Home and Orphanage
To help the Bohemian Old People's Home and Orphan asylum In Irving Park, wives and daughters of prominent Bohemian-Americans of this city, under the auspices ot the ladies' auxiliary of the Ceska Beseda, have arranged a matinee concert to be given at LIbuse hall, 834 West Twelfth street, on Wednesday. March 17, at 1 p. m.
All participants In the matinee concert are contributing their talent and efforts for the charitable cause and all the proceeds will go to the fund ot the old people's home and orphan asylum to purchase food and clothing for the adults and children at that Institution.
Mrs. Juliette Prlbyl Gerlnger. president; Mrs. Paula Kaspar, treasurer;-Mrs. Augusta Psenka, secretary, and Mrs. Charles J. Voplcka, Mrs. Joseph Kostner, Mrs. J. M. Kralovec, Mrs. A. M. Kapsa and Mrs. Joseph Trlner comprise the arrangement committee in charge of the concert.
Professor F. Hladky, the Bohemian violinist; Miss Jennie 8. Zeman, pianist, and Miss Harriet Hertz, soprano. will be the soloists.
After the musical program there will be a reception and a conference for the purpose of deciding upon further plans of aiding the Institution.
Psenka Describes Sokols Tribune 8-28-1921
What's A Sokol?  You Can Learn At Big Parade
Editor Explains and Asks Chicago to See Drills.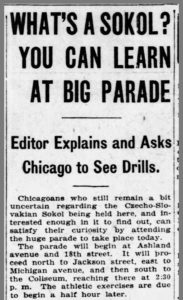 Chicagoans who still remain a bit uncertain regarding the Czecho-Slovakian Sokol being held here, and interested enough in it to find out. can satisfy their curiosity 'by attending the huge parade to take place today. The parade will begin at Ashland avenue and 18th street. It will roceed north to Jackson street, east to Michigan avenue, and then south to the Coliseum. reaching there at 2:30 p. in. The athletic exercises are due to begin a half hour later.
Weird Views of a Sokol.
R. J. Psenka, editor of the Bohemian Daily Svornosta, reports a multitude of questions, some serious, some ridiculous. that have been sent in to his paper. Among them, he says. are these: "What is a Sokol?" Why does it wear a red shirt?" " What has It got to do with Emperor Joseph II ?" and the likeR
Sokol, explained the editor, is Czech for falcon. The purpose of the organization is " to fortify the resistance of the race" by a system of physical and moral culture. He pointed out that of all the American Sokols that enlisted in the army. not one was rejected for disability.
At the Coliseum today. seventy Sokols win preen their feathers and show, the result of their training to those less physically fit.
Order Founded 100 Years Ago.
The order was founded in Bohemia about 100 years ago. It has spread rapidly throughout Czecho-Slovakia. There are at present 16,000 Sokols Is in America, the first coming here in 1848. Its system of drills is altogether anti-militaristic.
The competition here is being waged for honor, not for prizes, between Sokols from New York, St. Louis, Omaha, Cleveland, and numerous other Bohemian centers.
Among the speakers at the festivities today will be Senator Vaclav Klofac, heading a foreign delegation: Dr. Dedrich Stepanek, Czecho-Slovakian minister at Washington, who arrived in Chicago late yesterday with his sister, Mlle. Anna Stepanek. and Anton Miller, chairman of the arrangement committee.
Book Covers - Examples of the many publications of Rudolph Jaromir Psenka and printed by the Geringer Press.
R. J. Psenka was a member of the Bohemian Arts Club
Denní Hlasatel -- December 31, 1911
Bohemian Art Club
The meeting to organize the Bohemian Art Club, the need for which has been felt, and the creation of which will aid in carrying out many worth-while projects, took place in Chicago on December 27.
It was unanimously agreed upon by all who were present that this new society, which in no way competes with any existing Czech society, because Czech artists of Chicago have thus far been without any sort of an association, will develop into a desirable, friendly community in our city devoted to Czech art. It will be able to perform very important services for our cultural development.
The following individuals participated in a discussion dealing with the problem of organizing the Club: representing the musicians were Messrs. Adolph H. Capek, Vaclav Machek, and Jiri Hrusa--requests to be excused were received from Joseph Vilim, Stepan Erst, A. Novak, Mario J. Korbel and Rudolph F. Ingerle; the creative artists, Professor Antonin Sterba, August Petrtyl, Joseph Patek; 2the architects, Messrs. A. Charvat and James B. Rezny; the stage, Mr. F. Horlivy; and the literary men, Messrs. Enrique S. Vraz, Dr. Jaroslav E. S. Vojan, J. Tvrzicky-Kramer and Bretislav Jonas--requests to be excused were received from Messrs. R. J. Psenka and Bartos Bittner. Temporary officers, who are to serve until the regular election will be held on January 10, 1912 were elected. They are: Dr. Jaroslav E. S. Vojan, president, and Jiri Hrusa, secretary. With the unanimous consent of those present, the president announced the establishment of the new society. It will be called the "Bohemian Arts Club". On a motion of Mr. E. S. Vraz it was unanimously agreed that the Club will also be known as "The Art and Literary Department of the Cesko-Americka Narodni Rada (Bohemian-American National Council) of Chicago". The president and secretary, therefore, will serve on the executive committee of the Cesko-Americka Narodni Rada. The Arts Club, however, will be a self-governing independent body.
It was then decided that the Club be divided into five departments: music, creative painting and sculpture, architecture, drama and literature. The 3Club committee will consist of the five representatives from these departments, and the president and secretary who will be elected by the members. The committee for the preparation of the bylaws elected was composed of Messrs. Charvat, Petrtyl, Capek and Vojan. The next meeting will be held on Wednesday, January 10, 1912 in Mr. Welky's place. After the constitution and bylaws have been accepted, the public will be furnished with detailed information regarding the purposes of the Club. In many ways its program will be much the same as that followed by the Prague Arts Club; but, of course, many adjustments will be made to suit our own Bohemian-American conditions. On a motion of Mr. F. Horlivy one of the bylaws will provide that great care be taken by the Arts Club to preserve its genuine Czech characteristics--a purpose naturally desired by the Bohemian Arts Club.
Denní Hlasatel -- January 24, 1922
Bohemian Arts Club of Chicago Celebrates its Tenth Anniversary
The Český Umĕlecký Klub (Bohemian Arts Club), which was founded in January, 1912, will complete ten years of activity this month. It is the first club of its kind among the Bohemians of America that can boast of such an anniversary. Among its active members, the club numbers sixty artists and painters, sculptors, architects, musicians, and literati, as well as playwrights. There are two honorary members on its membership roll--one of them, Count Luetzow, died recently; the other one is the president of the Czechoslovak Republic, Tomáš G. Masaryk. (In the diploma issued to him in the spring of 1916, the club expressed its unalterable faith in Czech independence, and that occurred during the days when such independence was thought by many to be impossible). Besides these men there is a large number of contributing members. During its first decade, the club has arranged four art exhibitions; a small exhibit at the University of Chicago in cooperation with the Českoslovenakĕ Národní Sdružení (Czechoslovak National Alliance); 2various soirees and concerts to honor the memory of Mikuláš Aleš, to whom the club also sent an honorary gift of money. It also honored the memories of Shakespeare, Vrchlický, and many others. The club arranged a concert by Boza Umirov and an exhibit of the works of Alfons M. Mucha, etc.
At a meeting held on Wednesday, January 18, the post president of the club, Dr. Jaroslav E. S. Vojan, called the attention of the members to the anniversary, advising them to commemorate the occasion by heightened club activity during this current year.
At an election immediately thereafter, the following men became members of the executive committee: Frantíšek Horlivý, president; R. J. Pšenka, vice-president; Josef M. Mrázek, secretary; Čestmír J. Svoboda, treasurer; K. L. Jež, archivist.....
A letter of thanks was sent to Mr. Šuster, manager of Newcomb, Macline, and Company, for his active interest in care of the last exhibit which the club