St. John The Baptist - 1909
Address: 9129 S. Burley Avenue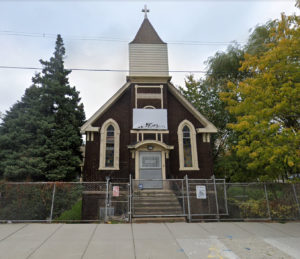 Saint John the Baptist Slovak parish was founded on May 16, 1909 to serve the needs of Slovak immigrants who had settled in South Chicago and in the East Side neighborhoods.  Its service area grew as other nearby Slovak churches lost their original parishioners and began to serve other ethnic groups.
In 1909, Reverend John Novotny, pastor of Holy Rosary Slovak Church in Roseland, purchased a former Protestant church on Burley avenue.  The red brick building and adjacent rectory at 9129 S. Burley were originally intended to be just temporary until a new church was built. Many Slovak families would leave the area for nearby locations near South Chicago Community hospital, and no permission was received by the Archdiocese to build new facilities for this church on Burley avenue. (1)
Image of St. John The Baptist (2)
Hispanic families replaced the departing Slovaks.  In 1923 Archbishop Mundelein approved the formation of Our Lady of Guadalupe parish, which would become the first Hispanic parish in Chicago.  The church was dedicated in 1928.  Located at 91st and Brandon avenue, it is very near St. John the Baptish Slovak Church. (1)
After the departure of Father Novotny the parish was administered in turn by the following priests : Rev. Aloysius Keelik,S. B. ; Rev. Vincent Cigler, "o. S. B. ; Rev. Edward Sladek, 0. S. B. ; Rev Method Vones, B. ; Rev. Paul Siska, for a short period. Then Rev. Stephen Szecsi took charge of the parish and remained from September, 1910, to September, 1913. Father Szesci was followed by Rev. Paul Hermann, who remained until June, 1915, when the Reverend John Olsavsky was made pastor and remained until February, 1916. Then the present pastor, Father Andrew Marecak, was appointed by the Most Reverend Archbishop Mundelein. Owing to sickness Father Joseph Rondzik was appointed administrator until Father Marecak was able to resume duties.  Father Marecak, who is deservedly popular with his parishoners, is doing work of great value, and the results are most gratifying.  The church is located on the south Side at 9129 Burley Avenue.  Branches of one or more of the Slovak Catholic societies have been organized in the parish. (1)
After Father Marecak additional pastors were: Reverends:. John Olsavsky 1921 - 1924, Stephen Ivicic, 1924 - 1928, Bartholomew Kvitek, OSB, 1928 - 1933, Michael Buc, 1933 - 1949; Joseph F. Petro, 1949 - 1952, (he became pastor emeritus of St. Simon the Apostle Slovak Church), Francis Kosjak, 1952 - 1959; Anthony Chisek, 1959 - 1996 (became pastor of Saints Cyril and Methodius Church and John Petrik.
Reverend Edward Slosarcik, of St. Joseph Slovak Church became pastor of St. John the Baptist in 1977, arriving from Bridgeport where he was associate pastor of Immaculate Conception Church. (1)
The Archdiocese of Chicago closed St. John the Baptist Slovak Church on December 31, 1993.  (3)   It appears that Our Lady of Guadalupe Catholic Church, located nearby, once used the building for a Headstart program.
"Lists one pastor"
Mchael Joseph Buc, born in Bobra, Orava, Slovakia, was a Catholic clergyman.  He came to the US in 1904 with his parents.  He attended St. Bede College in Peru, Il. (1913-1916) and St. Procopius Seminary, Lisle, Ill. (1916-1920).  He was ordained to the priesthood in 1920 by Cardinal Mundelein.  He became Pastor of the St. John the Baptist Parish.  He was a member of the Knights of Columbus.  He resided on Burley Avenue, South Chicago. (Miloslav Rechcigl - "Notable Czech and Slovak Americans" - www.academic.edu)
The main parish organizations were the Holy Name Society and the Altar and Rosary Society.  A branch of the Third Order of St. Francis, various fraternal societies, and a Senior Citizens group were part of the parish.  While it was open St. John The Baptist Church was involved in many neighborhood activities and sponsored or co-sponsored a number of annual "Slovak Day" celebrations. (1)
The Southeast Chicago Archive and Storytelling Project is a nice resource:  It described the parish:
"It was a small parish, the church seated 250, and had a meeting hall beneath the church and a rectory next door.  Several organizations and societies were affiliated with the parish.  St. John the Baptist was unusual because it never opened a parish school.  Most Catholic parishes had a parish school, especially the national parishes, because of the desire of immigrants to maintain their native language.  Relision instruction ws given in the parish hall but no school was ever opened…." (4)
References
1. A History of the Parishes of the Archdiocese of Chicago, Harry C. Koenig, Published by the Archdiocese of Chicago, 1980, Pages  478 - 479.
1. Saint John the Baptist Slovak Church - Illinois Catholic Historical Review, Volume 1V, July 1921, Number 1, Published by the Illinois Catholic Historical Society, Chicago, Illinois, Page 189.
2. Image - Google Maps, Image Captured October 2022
3. https://archives.archchicago.org/documents/1004501/1006364/Archives-and-Records_Closed-Parishes-Schools-Orphanages_June-2019.pdf/32c281c6-0736-4040-8869-85f6ea147725
4. Southeast Chicago Archive and Storytelling Project
https://www.sechicagohistory.org/wp-content/uploads/2020/12/Cultural-Institutions-Churches-1.pdf