Saint Joseph's Church - 1906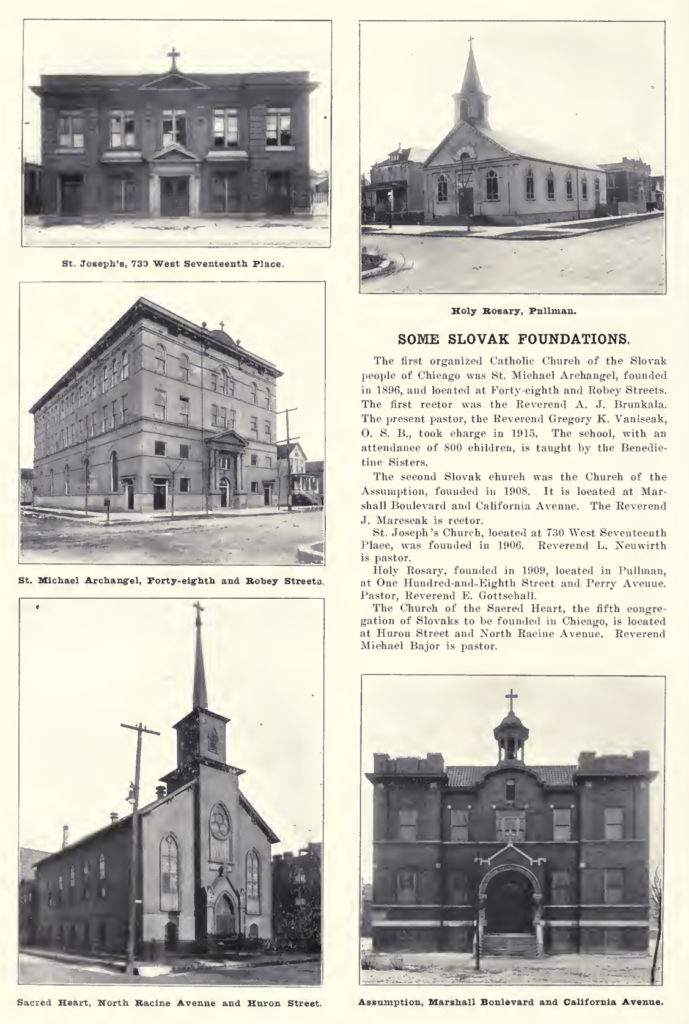 Seek information on Saint Joseph's church at 730 West 17th Place?  Some references indicate it is a Bohemian church.  Other references list it as a Slovak church.  The 1915 publication of the Chicago Archdiocese, lists it as Slovak, along with several others.
St. Joseph's Church ( Slovak ) is located at 730 West 17th Place. It is a combination building of church and school . The congregation is very large and the parish covers a large territory. This parish has a number of entertaining and instructive enterprises . It has many societies and branches of many church organizations. In the school there are five Sisters and 250 pupils. Rev. J. Oslavsky is the pastor and has met with gratifying success. (1)
Saint Joseph's church's parish area was taken over by Providence of God.  Providence of God is located at 18th and Union.
Providence of God was "subsumed" into Saint Procopius Church in 2015. (2)
Established about 1906 as a mission of the Bohemian parish of St. Procopius at 18th and Allport st., St. Joseph Church was organized to serve Slovak Catholics who lived at the east end of the Pilsen community around 18th and Halsted st.  The Benedictine Fathers of St. Procopius parish directed teh construction of a brick combination church / school building at 730 W. 17th Pl, which served the Slovak congregation for many years.
The national parish of St. Joseph was located within the boundaries of the territorial parish of Sacred Heart at 19th and Peoria st., and in close proximity to the Lithuanian Catholic Church of Providence of God at 18th and Union Ave.
The first diocesan priest assigned as pastor of St. Joseph parish was Rev. Emery Gottschall.  Born in Trnava, Slovakia in 1881, he was ordained in Estergom, Hungary on Sept. 4, 1905.  It appears that Father Gottschall served as pastor from 1911 until 1912, when he was named pastor of the Slovak parish of Holy Rosary in Chicago's Roseland neighborhood.
(Note: Monsignor Gottschall died in 1963.  Find A Grave https://www.findagrave.com/memorial/25478426/emery-gottschall)
During Rev. John Olsavsky's pastorate which extended from 1912 to about 1921, enrollment in St. Joseph School increased steadily from 175 to 221 pupils under the direction of five sisters of St. Benedict.
About 1921, Rev. J. P. Rondzik was named pastor, a post he retained until 1966.  Father Rondzik was pastor during the building of an auditorium and new school in 1939.  The school had eight classrooms and the auditorium, main floor of the school building, held 850 persons, and was able to stage plays, sports, and other forms of recreation.  There was also a rectory at 720 W. 17th Place and a convent at 728 W. 17th Place.
Monsignor Rondzik was named pastor emeritus in 1966, celebrating his 50th ordination in 1967.   Monsignor Rondzik died in 1972. (https://www.findagrave.com/memorial/89653478/john-p-rondzik)
During Monsignor Rondzik's time as pastor the neighborhood transitioned to a Hispanic community.  Reverend Edward Slosarcik became pastor in 1966, and during the same year, with declining enrollment the school closed.
In 1968 the Archdiocese closed St. Joseph and parishioners were now within the parish boundaries of Providence of God church on 18th and Union.
Excerpt: "A History of the Parishes of the Archdiocese of Chicago", Editor: Rev. Msgr. Harry C. Koenig, S.T.D., Volumes One and Two, Published by the Archdiocese of Chicago, Chicago , Illinois, 1980.
The Archdiocese of Chicago closed St. Joseph's Church on December 31, 1968. (3)
References:
1. Saint  Joseph's Slovak Church - Illinois Catholic Historical Review, Volume 1V, July 1921, Number 1, Published by the Illinois Catholic Historical Society, Chicago, Illinois, Page 189.
2. https://www.archchicago.org/documents/20342/21370/News-Release-Suppression+Providence+of+God.pdf/9efa7078-8a74-4876-803b-edf1880f2eeb
3. https://archives.archchicago.org/documents/1004501/1006364/Archives-and-Records_Closed-Parishes-Schools-Orphanages_June-2019.pdf/32c281c6-0736-4040-8869-85f6ea147725