The Five Houses On Avers Avenue
Chicago subdivision built by John Kralovec - Chicago Landmark since March 4, 1994
Five homes built by John Kralovec were given Chicago Landmark Status on March 2, 1994.
For several decades, working with his brother, ..., or other partners, John Kralovec was quite busy constructing single homes and buildings.  Over the course of time he took on greater projects which extended the settlement area of Czechs, those already living in Chicago, and those that continued to arrive in Chicago.
In their research, Miloslav Rechigal Jr., in his book, and Timothy N. Wittman in his research for the Chicago Landmark Commission report the same information.
"Jan Kralovec gradually discontinued his work as a contractor, preferring to concentrate on real estate and the subdivision and development of open tracts of land.  Many of the homes he build after 1890 were located south and west of Pilsen in neighborhoods that became known as "Ceska Kalifornia" (Czech California), located south of Douglas Park and west of California Avenue, and "Novy Tabor", (New Tabor, after a town in Bohemia), located south of Independence Square Prk, west of Central Park Avenue." (1) (2)
Wittman continues by describing that Kralovec monitored the continued growth of Chicago, and of planned new transportation which would aid that growth.  In 1892 a Cyrus McCormick property of approximately 100 acres was placed on the real estate market. (3) One of the projects planned within that acreage was the creation of a Twenty Second Street Car line which would link to other street car lines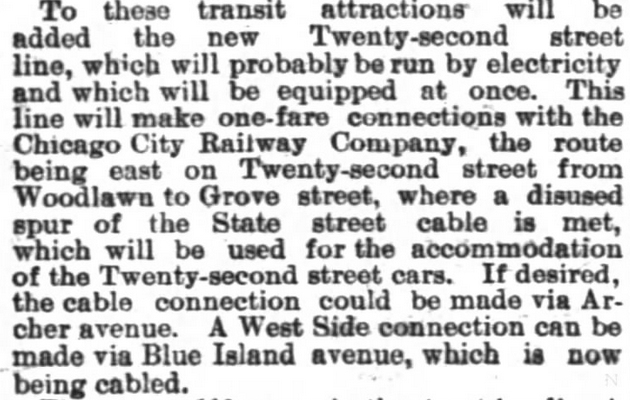 and reach the edge of downtown Chicago.
For several years newspaper articles would describe the progress of multiple street car companies and their movement to make this a reality.  Chicago Landmark Commission researcher, Wittman, included in his report, a map of three Kralovec subdivisions created as part of Kralovec's plan to make use of nearby public transportation.  The Five Houses on Avers Avenue, Springfield and Harding Avenues were three of them.  (4) Clipping Left (5)
Frederick Bacon Townsend, born in Somerville, Massachusetts, receiving some architect training at Harvard, was chosen to build Kralovec's five houses on Avers Avenue.  Townsend had lived and worked in Chicago for about 15 years before he undertook this project.  It seems that Kralovec sought to make these homes, ones which went beyond his previous home constructions.  Extra wide lots, numerous rooms, upgrades and carriage houses in the rear were some of them.
The original owners of the four other Kralovec homes on Avers Avenue were all known to John Kralovec.  Wittman describes that  Miksak (1958 Avers) was the president of the Pilsen Lumber Company.  John Krupka (1952 Avers) was the secretary of the Pilsen Lumber Company.  Frank Layer (1950 Avers) was a builder himself, a member of the Bohemian Bricklayers Union which Kralovec helped create and was involved in the Builder's Brick Company.
The last of the five Avers Avenue buildings (1942 Avers) would be different.  It was originally intended for the brother of John's wife, Julia Kubin Kralovec, Martin.  When Martin died, the house was redesigned to be smaller for his widow, Antonia. (6)
It should be noted that the addresses in the newspaper clippings do not match the current Avers addresses for the five Kralovec buildings.  Over the course of time the City of Chicago renumbered the streets.
Born in 1853, Architect Townsend died in 1939.  He is buried in Du Page County.  (Find A Grave # 55243550)
Using Google Maps to To View Indivdual Buildings / streets of interest - When Google Maps is visible on your screen, you can add an address of interest, such as 2102 South Avers.  When you zoom in on the map, you can see that house number and adjacent house numbers.  You can click on that house address and usually a photo, taken by Google, will appear for that address.  Most times it is possible to advance up and down the street to view others adjacent homes / buildings.
To Search For Kralovec Subdivisions - This works - some times.  In Google type in subdivision kralovec, or kralovec subdivision.  If you are successful, you will probably be viewing a home or building for sale which was part of one of the numerous Kralovec subdivisions built in Chicago.
References:
(1) Encyclopedia of Bohemian and Czech American Biography, Volume 1, Miloslave Rechcigl, Author House, Bloomington, Indiana, 2016. https://books.google.com/books?id=34KQDQAAQBAJ&pg=PT175&lpg=PT175&dq=john+kralovec+encyclopedia+of+bohemian+and+czech+american+biography&source=bl&ots=pNRigqyFlw&sig=ACfU3U2PdzaqM2HStenZ5u8rwd4ntKaG9w&hl=en&sa=X&ved=2ahUKEwiRqKC3jbXwAhVYoZ4KHQfdCwAQ6AEwAHoECAEQAw#v=onepage&q=john%20kralovec%20encyclopedia%20of%20bohemian%20and%20czech%20american%20biography&f=false
(2) Chicago Landmark Commission "Five Houses on Avers Avenue", July 1990, Researcher, Timothy N. Wittman
(3) "McCormick Tract Opened" - The Inter Ocean Newspaper, Chicago, Sunday, February 12, 1892, Page 10.
(4) Chicago Landmark Commission "Five Houses on Avers Avenue", July 1990, Researcher, Timothy N. Wittman
(5) "McCormick Tract Opened" - The Inter Ocean Newspaper, Chicago, Sunday, February 12, 1892, Page 10.  Read complete article in PDF Format - Click Here.
(6) Chicago Landmark Commission "Five Houses on Avers Avenue", July 1990, Researcher, Timothy N. Wittman